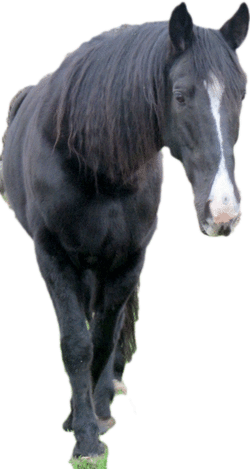 Better's Story • a Journey
Functional Support, Functional Healing & Functional Soundness
by David Korn
As equine stewards, we all strive with great passion and purpose to achieve a position were lameness does not limit what can be achieved by our horses. With that being said, the task at hand is not a simple matter. According to the American Farriers Association's November 2000 edition, less than 10% of the 122 million equines around the world are clinically sound.
My journey was set in motion 7 years ago when I noticed that my horse Better's hoof condition was steadily deteriorating. "Ya Better Watch Out" is a Registered Tennessee Walking Horse gelding who stands a16.2 hands tall. He is black in color and has a white blaze with a perfect black spot marking the center of his nose, called his "Better" button. The idea of the "Better" button is that if you press it, everything will become better. As Better's condition continued to worsen, I notice that his exuberant personality began to grow very dim and his striking physique dwindled. I did not need to be a horse whisperer to see that his eyes were pleading for help. I knew then that pressing his "Better" button would not save him and I needed to act immediately.
The Beginning 2004‑2007
It all began with a quarter crack located on his right front hoof. Of course I was concerned, but my farrier assured me that it could be addressed with a dremel tool and a bar shoe. After 16 weeks without any progress, the farrier removed more hoof and added a pad. The quarter crack appeared to be smaller due to trimming, but his lameness increased. The pad created an ideal environment for bacteria growth and his frog was destroyed within six weeks. His lameness continued and his movement was reduced to round pen work at a slow walk. This lasted for another 8 weeks, until it was time to call the farrier, who continued with the pad and shoe solution. Due to the lack of improvement, we scheduled an appointment with our vet to take radiographs of Better's hooves. The radiographs revealed that his coffin bone had descended and he suffered from very thin soles. Her recommendation was that he begin a regiment of Biotin and continue with bar shoes and pads. In addition to stall rest with rubber mats inside and outside his stall. We began her protocol and during the second week, while on my evening feeding rounds, I went to throw him his flake of grass and I did not see his head peaking over the gate. I heard an awful moan emerging from his stall. I opened the door only to discover him laying down deathly still. I thought he had casted himself and needed some assistance, but that was not the case. To this day, I have never heard such a sound as the one Better made that night. As he laid motionless, he slowly whined as if he were asking me for help. I reached down to touch his front hooves and they felt unusually hot. He refused to stand so I sprinted out to my truck and went to the local market to buy 4 bags of ice. As I placed each front hoof in a bag he did not move a muscle. I rolled up my jacket to create a pillow and I spent the night with him. Every 20 minutes I would remove the ice from his hooves and let them sit for 20 minutes. This continued for about four hours, until the ice was completely melted. About 3 hours later he tried to stand. Once he was steadily upright, I gave him 2 grams of butte and remained by his side. His eyes told me he was grateful, but it was apparent that he was still uncomfortable. I knew then that this was only the beginning of a long struggle.
At that point, it was obvious, that our current direction had proven to be unsuccessful. I feared that if something was not done quickly, Better would have to be injected with the blue death syringe and laid to rest, thus relieving his misery. As my conscience weighed on me, I decided it was time to investigate a new approach. Due to his ongoing hoof issues, I was driven to obtain a better understanding the hoof. As I dove deeper into my studies, I came to the conclusion that transitioning Better to barefoot was the correct path. Once I chose to pursue the barefoot path, I became responsible for the tremendous commitment that went a long with it.
Education 2008
My personal approach when embarking on a new venture goes as follows:
Education: Define the possible solutions to the issues you are experiencing. Knowledge is the key to understanding. Regard all information as valuable, including all perspectives.
Responsibility: Through education you are now empowered to provide the care your horse requires.
Accountability: You are solely your horse's advocate, not their care givers. e.g. vets, farriers, trimmers, body work, dentist, trainers, etc.
Action: Once you have knowledge and understanding, you can move forward with proper treatment.
My extensive research drew me into the bare foot movement. I read literature about the topic by Jamie Jackson, Pete Ramey, Martha Olivo, Strasser and Gene Ovnicek. In addition, I attended a course at the Oregon School of Natural Hoof Care, directed by Cheryl Henderson. During this time I became acquainted with barefoot hoof care. My farrier said he could no longer work with my barefoot horse because he did not have enough hoof to trim, so I set out to locate a natural barefoot trimmer. This barefoot trimmer was eager to help me improve Better's hooves and he prided himself with his use of extensive terminology. Unfortunately after each trim Better was very sensitive and still could not walk anywhere without a padded hoof protection boot. This is when I decided it was time to start evaluating what the professional trimmer was actually doing. I watched him very closely as he set Better's heel height, defined the frog and located his break over between 10-2 on his toe. What struck me as strange was that he began removing his sole to create concavity. At the time, carving concavity was what I had been told was the correct trimming action to take. The sole removal proved to be Better's nemesis because his soles were already thin and at times very soft. Better would continue to make very little progress if we continued to extract what he was attempting to grow for protection and hoof mechanism. At this time in his journey, Better's progress plateaued. As my knowledge increased, many transitions occurred over the following three years. First being that I began to trim Better myself, without removing his sole.

The 5 key factors that I believe my horses need to thrive are:
1. Movement
2. Movement
3. Movement
4. Diet (Equine Challenge: Mackie Hartwig, D.C. Ret.)
5. OMT- Orthopedic Mobilization Technique ( Mackie Hartwig, D.C. Ret )

Movement Proof 2008
The foundation of bare foot trimming was based upon the example of the mustang model. The mustang model was developed by God and Mother Nature 4 million years ago. The domestication of horses by humans began approximately 10,000 years ago. Therefore, for 3,990,000 years the horse's hoof was a superior design that was built to survive. If it was inadequate it would not be here for our viewing pleasure today. One could conclude that God and Mother Nature had the design figured out, and it appears the unnecessary factor in this equation is of human origin.
The domesticated horse has become a sedentary animal in comparison to its wild counterpart. Stabling a horse decreases its movement which has a negative impact overall. In many instances the lack of proper terrain and "variety" of terrain causes hooves to fail as parts, or as a whole. The domesticated horse can never achieve the consistent movement of its correspondent, the wild free roaming horse (15-20 Miles per day). With that being said, it is implausible that a proper hoof, the "Mustang Model", will ever be attained.
This Lack of movement led me to think outside the box. What does this wild free roaming horse possess that our domesticated horses do not? The wild horse receives continual support from terrain and hoof movement. Furthermore, the weight ratio of the wild horse is 700-1000lbs, which is easily managed on a standard hoof. Many factors in Better's life caused his feet to deteriorate. This includes, an impressive size of 1300lbs, a significant lack of movement, poor diet, and wearing steel shoes from the time he was 2 years old.
Once a horse's hoofs begin to fail and collapse, pathology becomes their treatment. The definition of pathology is—"The science and study of the cause and effect." It is believed that 90% of all domesticated horses suffer from some level of hoof lameness.
At this point, I came to the realization that without legitimate movement my horse was going to die. I located a piece of property and released him with another horse. I had to be conscious of the fact that he would either survive the next six months of excessive movement, or he would not. As the six months passed, we did not trim his feet, rather provided proper diet and plenty of movement. He was getting "Better" but something was still lacking.
This battle that Better is fighting is one he can never win due to both internal and external factors. He is fighting against factors which influence him metabolically, histologically, structurally, and physically. The three constants in the situation are the Earth, gravity and Better's mass. Therefore the culprit to the lack of bony column support is the instability of the hoof given the proliferation of pathological repair and the inability of this dysfunctional repair tissue to support the weight of the horse. Pathological tissue repair is much weaker than functional repair. Without proper bony column support to counter Better's weight and concussive energy, there is no realistic expectation for functional hoof repair to occur. The pathological hoof repair can not catch up with the hardness of the ground, gravity and the concussive forces of the horse's weight. Meanwhile, the resulting chronic and unyielding pain is debilitating.
There is a structural reason why broken bones are cast. If we do not set them, they will heal eventually, but will generally demonstrate deformity, which interferes with the overall functionality of the appendage. Not to mention the affected area will exhibit symptoms of avascular necrosis.
We have all heard such things as "a horse is a sinker" or a "founder case." If the bony column is sinking, by definition there is failure of the hoof structures to support the weight of the horse for whatever reason. What can humans do to drive the bony column back into a more functional and stable position? We can use the constant ground forces to work for us in this case. A common solution is to put in a few tons of pea gravel in a paddock to work to this end. Though it may create a panacea, the use of the pea gravel is limited to the realm of pathological repair. The symmetry of each hoof is unique, therefore the pea gravel cannot offer true functional repair to each horse. Since we cannot cover the Earth with pea gravel, the logical response would be to incorporate the proper bony column and tissue support to each individual horse.
Better was the first horse to receive the application of the KeyStone Hoof Bridge in December of 2011. The KeyStone Hoof Bridge is applied to the bottom of the hoof. It is of equivalent hardness as boney material and administers support to the boney column. The Keystone Hoof Bridge works with all the elements of the hoof to become the correct terrain for the domesticated horse to initiate the development of a healthy and strong hoof. The essential elements of the hoof function can be understood by analyzing hoof motion. As the hoof leaves the ground it contracts, as opposed to when the hoof makes contact with the ground and expansion occurs. This compression sends blood into the capillaries that extend into the depths of the hoof. This pump like action provides the building blocks for development of a functional growing hoof. The KeyStone supplies the hoof with the sole support directly below the boney column. This extra sole support has been aiding horses that lack the sole callus, by improving the callus formation ability and in turn also forming more concavity in the bottom of the hoof.
The KeyStone is not only applicable to horses that require functional repair. It also provides support for horses that live in areas with climates counterproductive to functional soundness. Horses that are subject to severe moisture suffer from the softening of hoof tissue, thus increasing sole sensitivity. The keystone is hydrophobic, which repels water from the sole. This protects the sole from excessive hydration and forms a protective barrier while maintaining bony column support. Climate is irrelevant to the application abilities of the KeyStone.
Furthermore, as human tissue ages, it begins to sink and sag. The same is true regarding horses and their supporting tissues. We are then faced with a unique problem because as the hoof tissues sink and sag, they are still structurally responsible for supporting the horse's frame. The KeyStone will provide the necessary bony column support to help this age-old dilemma.
It has been one year since Better received his KeyStone Hoof Bridge treatment and his soundness has improved tremendously! The hoof has changed shape and has grown out an entire hoof capsule. When we first applied the KeyStone Hoof Bridge he had a flat thin sole, but now he has definite hoof concavity. The application of the KeyStone Hoof Bridge has provided Better's hooves the environment needed to generate functional repair tissue and heal.
Witnessing Better's newly found soundness leaves me astounded. He moves freely about the pasture reinforcing his position as the leader of the herd. I feel immense joy when I ride him and as he perks ears forward, he is eager to move over any footing. I have been a student to Better. As he struggled for 7 years of his life, he taught me more about this cause and myself, than I could have ever come to know without him. His lameness led me in the direction to discover the KeyStone Hoof Bridge and broadened my Education. Through his suffering, he has sacrificed himself for the greater good of his kind. I do not know another act as selfless as to endure physical pain for the benefit of those to follow. Better needed what horses get from nature; support, movement and a proper diet. I imagine the KeyStone Hoof Bridge is the key to bring soundness to many domesticated horses that are struggling with lameness issues. Better was struggling but now he is thriving. I owe him a huge debt of gratitude for making me Responsible, and Accountable for his success. His initial lameness led me to take the Action that was necessary for him to prevail. I have had the opportunity to share the KeyStone Hoof Bridge with other horses across the United States. These horses have also been thriving KeyStone Hoof Bridge cases.
Once again, it reminds me that Better and his predecessors have had their soundness figured out many years before man entered into their lives. He has granted me with the privilege to see it clearly. As I have evolved, I have come to appreciate how much you can learn simply by listening.
In my opinion if your horse is struggling with any or all of the following listed below, your horse would benefit from proper boney column support to begin its journey to functional soundness.
• ThinSoles
• Bar Migration
• Laminitis
• Sinking Sole
• Founder
• Sheared Heals
• Navicular
• Soft Soles
• Thin Soles
• Hoof Separation
• Shoe to Barefoot Transitions
• Ring and Side Bone
• Under-Run Heels
For any questions regarding this article and the KeyStone Hoof Bridge, please contact us.
Article contributors: Dr. Mackie Hartwig
Michaela Korn, and Nicole Schoppe.
The KeyStone Hoof Bridge Technology is currently a patent pending technology in the process of obtaining full patent protection.
© David R. Korn All right reserved.


---
Article below: The Mechanical Treatment for Laminitis By: Gail Snyder / Published in Natural Horse Magazine