Patent Pending Technology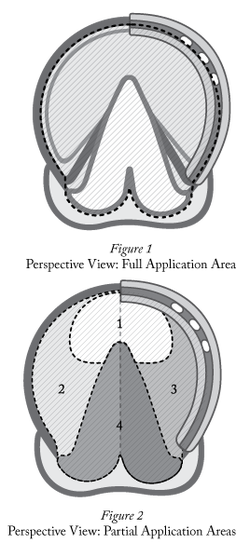 KeyStone Hoof Bridge is the application of a Bony column support material to the bottom of the hoof.

The Keystone Hoof Bridge works with all the elements of the hoof to become the correct terrain for the domesticated horse to initiate the development of a healthy and strong hoof. The essential elements of the hoof function can be understood by analyzing hoof motion. As the hoof leaves the ground it contracts, as opposed to when the hoof makes contact the the ground and expansion occurs. This compression sends blood into the capillaries that extend into the depths of the hoof. This pump-like action provides the building blocks for the development of a functional growing hoof. The KeyStone supplies the hoof with the sole support directly below the bony column. This extra sole support has been aiding horses that lack the sole callus, by improving the callus formation ability, and, in turn, also forming more concavity in the bottom of the hoof.

The Keystone is not only applicable to horses that require functional repair. It also provides support for horses that live in areas with climates counterproductive to functional soundness. Horses that are subject to severe moisture suffer from the softening of hoof tissue, this increasing sole sensitivity. The KeyStone Hoof Bridge is hydrophobic, which repels water away from the sole. This protects the sold from excessive hydration and forms a protective barrier while maintaining bony column support. Climate is irrelevant to the application abilities of this product.

---